Vintage 1950s 60s MID Century Modern Studio Art Pottery Bottle Vase Marc Hansen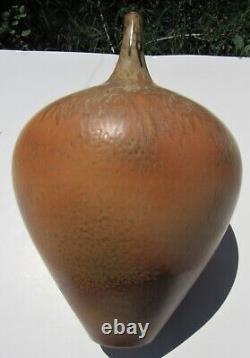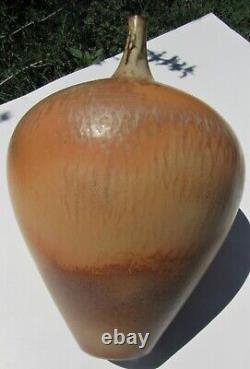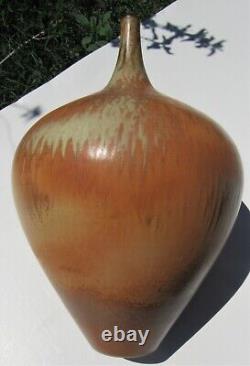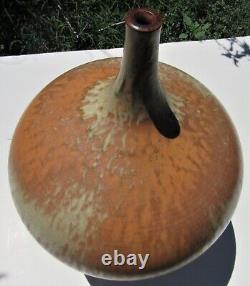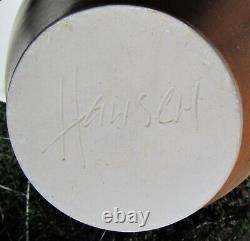 This is an incredibly large and impressive Mid Century Modern studio, art pottery signed bottle / vase by famous Mid Century Potter "Marc Hansen". It appears to be from the 50s to 60s and Marc Hansen was known for his pottery bottles. This one measures 14 1/2" tall x 9" wide. It' was part of his family's collection so is quite an amazing example of his works. Please see photos for artistic design and also condition. It is in amazing vintage condition. I have two more similar bottles / vases also listed so please see my other listings. San Jose State College, San Jose, California.
MFA The Ohio State, Toledo, Ohio. Professor of Ceramics, Western Michigan University, Kalamazoo, Michigan. In the spring of 1971, under the auspices of the International Academy of Ceramics, the Tennessee Arts Commission pledged its support for the promotion and establishment of the U.
The Symposium's mission to help develop a worldwide network of support for ceramic art was achieved by bringing together top ceramic artists from around the world for a month-long sharing of ideas and creation of innovative ceramics. Photo of Hansen from the 1975 ICS catalogue. Hansen represented the United States at the Second U. International Ceramic Symposium, which consisted of twelve artists from seven different countries, and was hosted in the summer of 1975 at the Arrowmont School of Crafts in Gatlinburg, TN. At the Symposium, Hansen provided a counterpoint to the more free-form and low-tech methods of the other participants by utilizing a highly technical and methodical approach.
Using an electric kiln and a precise firing schedule, he fired several traditional porcelain bottle shapes in exquisite crystalline glazes. His process for creating these crystalline glazes started with a Hansen's own special fired and ground glaze composition that contains little to none alumina, which would then be applied to the bottle up to one-inch thick, with the bottles placed over a bowl to catch the runoff during firing. He would start the firing with a rapid advance to a high temperature, and then dramatically drop the temperature for four hours to allow crystals to grow, creating the effect of having crystals suspended within the smooth form. Well known for his beautiful crystalline glazes, Hansen developed his expertise with such glazes from Herbert Sanders, teacher and author of the book. A professor of art at Western Michigan University, Hansen continued to research ceramic glazes and formulate his own frits.
Hansen exhibited at the Syracuse Ceramic Nationals in the 1950s-60s and appeared in the fifth edition of. Ceramics: A Potter's Handbook. His work has shown widely nationally and internationally, including at institutions such as the Art Institute of Chicago, the Kalamazoo Institute of Arts, the Dayton Art Institute, and the University of Michigan. Sadly, Hansen passed away due to a cardiac event about six months after the 1975 Symposium.
Written by Aiden Layer, TN Arts Intern.

---