Vintage 9 pc set American studio pottery, signed, teapot, 4 stems, sugar, cream/lids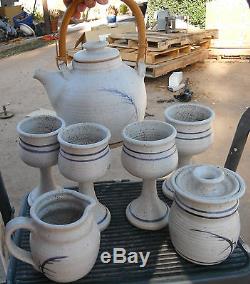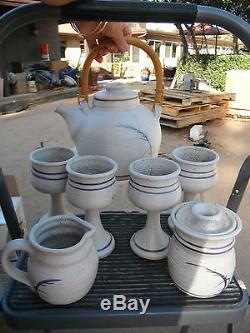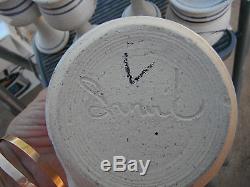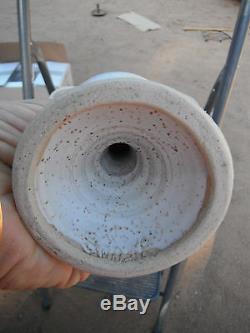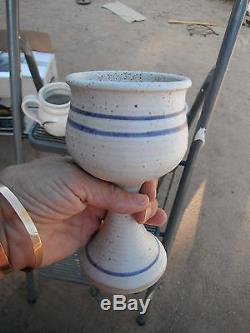 This set is just perfect, bamboo handle, beautiful stemmed goblets for the teacups, perfect. It comes from an estate in the Phoenix area. This is the sort of pottery that I used to want when pushing a stroller through the crowds in the early 70s, but couldn't afford even one piece at the time. Imagine finding a complete set in perfect condition. I see no evidence that it was ever used beyond display.
Both the teapot and the sugar bowl have their lids. Good job, you found the listing. So many of my shoppers are pretty new. Here are a few things that no one will probably tell you, but EVERYone will expect you to know.
Customer Service is something that we have a right to expect when we are shoppers. All stores have a CS Department and it is busy all the time. If you require CS in this life, that does NOT mean that life sucks and the store sucks and your experience has been rotten. If it did, there would be no stores open anywhere in the world or else CS would have to put up bullet proof kiosks, right? Maybe the wind crashes a shelf and your item is broken, no longer available.
So, the shopping is easy, but check your SPAM/BULK filters for emails that could be important. Most of us are running little part time businesses.
We work alone, have no fill in employee, and thanks to the internet, we make things available to folks all over the world, things we could never afford to truck around to some place where you might notice it. We all want things to go smoothly and we're all learning as we go. OK, now have a good time. Now, you'd think I didn't have to say this, but read the doggone listing. If I sell you a "pink vase", don't say you're upset because it is pink.
If I sell a pattern called "smooth Edwardian" don't say you don't want it because it is smooth. Really, I have had this happen. I don't invent this stuff, it really happens.
Oh, and items received broken are a claim, not a return because the item is not as described. If the package is smashed, it is a claim, not a return. We are both victims when there is a claim.
Don't shop to pump up your endorphins and then expect cash back to pay your rent. Wrong items are my headache. Broken items are claims that we work together to deal with.
You will receive a merchandise credit, NEVER CASH. If I lose some of you here, well, my work is done. Just in case I have been unclear in any way - 1 in every 20 packages has some sort of damage, maybe something is shattered, maybe a single cup has a handle cracked.
This is a Customer Service issue. What earthly good would it do me to get a broken item back. A teensy crack might not show up in a picture that might transfer as 2 inches square on a screen, so let's whack it beyond usefulness and make it obvious to me. With my type of inventory, each damage claim is dealt with differently, as the situation demands. Have a nice life, but stay out of my store.
If you are judgement impaired by whatever legal or illegal chemical means, please be irrational elsewhere. Plenty of stuff out there.
The item "Vintage 9 pc set American studio pottery, signed, teapot, 4 stems, sugar, cream/lids" is in sale since Sunday, July 15, 2012. This item is in the category "Pottery & Glass\Pottery & China\Art Pottery\Studio/ Handcrafted Pottery". The seller is "truckerwoman48" and is located in San Angelo, Texas. This item can be shipped to United States.
---